Of all the fun things that happen around here as we gear up for "Not" Back to school is by far the "Not Back To School Fairy"!!!
This year our school supply list is pretty minimal. Not sure how that happened but we escaped last year without using up lots of extra supplies. As I started brainstorming what the "fairy" would bring the girls I just kept drawing blanks. I like to keep it to fun stuff, but as I said before our notebooks, folders, pencil cases and other re-usable items fared well through the year and are in perfectly good shape. I finally came up with the idea to have "her" sneak in and decorate the "classroom". I found some fantastic free printables from
"Amanda's Parties TO GO"
 – So many goodies included in this FREEBIE!!! (see list below)
FREEBIE PRINTABLE Back To School Set Includes:
– Back to School sign
– 2″ Welcome Back circles
– 2″ Party circles for cupcake toppers
– 2.5″ Polka dot background circles
– 4 Pennants for centerpiece picks
– Chalkboard "Back to School" tags
– Chalkboard "Snack time" tags
– Food/School Supply labels – fold over
– "Welcome Back" tags
– "Welcome Back" fold over treat bag toppers
– Polka dot water bottle wraps
– Apple and bookworm cut-outs
– "Welcome Back" banner
– Signs for first day of school photos: Pre-K through 6th grade
So the game plan stands as this…
Welcome Back Banner Decorating Window
Photo Signs as Placemats
Pennant Flags and new pencils, scissors etc… 
Find Out How To Make This "Recycled Crayon/Can Pencil Holders" HERE!
I will also be using the water bottle wraps, snack bag tops and other assorted tags to decorate the table and snacks sacks that the "fairy" will leave with her note. I can't wait I'm so super excited!!!!!
We also do a "Interview" activity to start off their yearly portfolios!
"PositivelySplendid.com"
 has a great Before/After Grade level questionnaire that is cute and fun!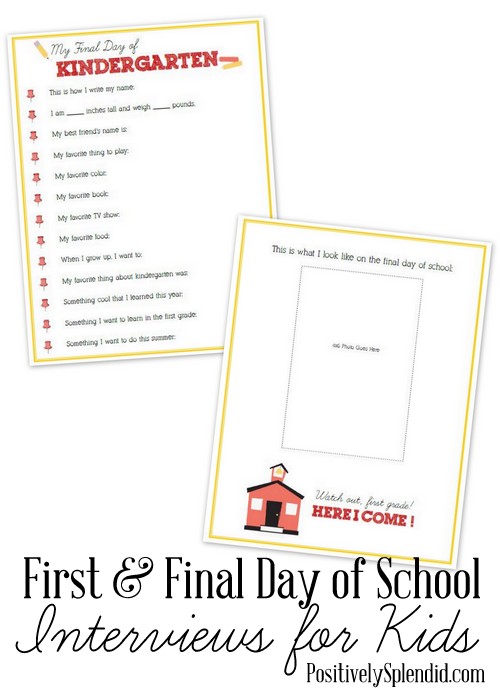 The festivities can't be complete without an annual "Back To School" photo by the same big tree in our front yard. Here are some past "First Day" photos…
2011-12
2012-13
I hope these ideas and traditions get you excited to kick off your 1st day "Not" Back To School! 
What are some ways that your family gets back into the swing of things? What traditions do you have or are thinking of starting? Please share and help us all get into the "Back To School" mood!!
I hope you have a great year and happy homeschooling from The Hoggatt Homeschool!