I am privileged to have been selected by 
The Critical Thinking Co. 
 to review their
Alphabet Song Game
.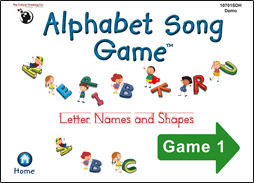 But before I get into the review, Let me tell you about
The Critical Thinking Co..
 It is a company that offers over 150 National award winning books, full curriculum sets, test preps, and software for ages prek through 12th grade +. They also have a free online playroom where you can select your child's age/grade and play demos of their wonderful downloadable games. Their is also free print sample activities of the books and curriculum. I like the try before you buy!!!!
Find The Critical Thinking Co. on Facebook, Google+, Twitter, and Pinterest!
Now to what I received….
The Alphabet Song Game……PSSSSSS It is currently FREE for a limited time!!!!!!!!!! (Windows Download)
This product is a download and comes for windows 8/7/vista, apple, and android. The purchase comes with 2 computer license.
Basically, it is a game for toddler – Kindergartner (some 1st graders may also be interested). You can play with your child or they can play independently depending on age. It contains 22 fun lessons/games. Each lesson begins with singing the alphabet song while showing them the letters that correspond. Then they are asked to click the letters in alphabetical order. It starts out easy by offering two upper case letter choices then gradually increases in difficulty adding more letters each time. It then moves to learning the lowercase letters and eventually distinguishing between the upper and lower case letters. At the end of each lesson it gives the parent a percentage that the child clicked correctly.
I really liked how the alphabet song was slow and not rushed helping to distinguish between the individual letters, especially l…m…n…o…p. It also gave the child time to associate each letter with the letter shape.
I used the product with my 4 year old who already knew all her uppercase (mommy) and most lowercase (baby) letters. However, she still found it challenging to put them in the correct alphabetical order. She loved playing and asks everyday to play her ABC song! She also found it challenging (in a good way) to pick the correct case of letter when given the choice (ex… Pick the next Uppercase letter C c)
In addition to the alphabet learning, she was also learning basic beginner computer skills like mouse placement, control, and clicking.
I was really impressed with the product and it's ease of use. Many games have so much fluff that it becomes confusing for little users. The Alphabet Song Game was easy for her to use on her own. I also really appreciate not having to stand right by her to see her progress and getting the at a glance percentage. It gave me a little time to work with the other kiddos while she worked on her own. It also gave her some pride to be able to accomplish it all by herself!
Find out more about The Critical Thinking Co. by visiting their website, or by checking out the TOS Review Crew post. Other reviewers had different products so you can find out about some of the other cool resources from The Critical Thinking Co.