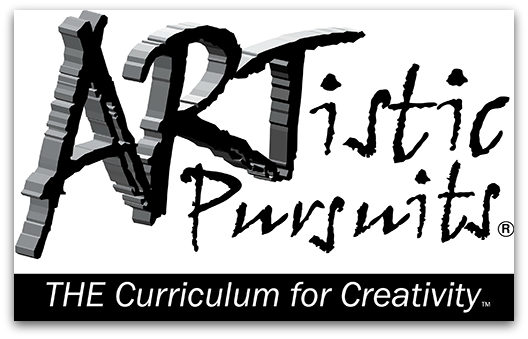 I am so excited to tell you about the next product I had the privileged to review. We have some starving artists here at The Hoggatt Homeschool. STARVING for ART Lessons!!!! haha I love art and creative projects but am not quite sure how to teach my kiddos about it or where to start with art history and not make it boring. Thanks to
ARTistic Pursuits
that isn't a problem anymore!!!! They offer many many books to help kids of all ages and stages get started in the study of art and techniques. We chose
ARTistic Pursuits, Early Elementary K-3, Book 3: Modern Painting and Sculpture
.
ARTistic pursuits is a company the provides homeschool art programs that help children develop their artistic skills while educating them about the beauty and art all around them. It encourages children to explore their creativity,  build their visual vocabulary, use critical thinking techniques, explore art history and appreciate. All while taking a look at the world around them in a whole new way! Their books cover any technique imaginable for all ages from PreK to Highschool!
Find ARTistic Pursuits on Facebook!
I received the Early Elementary K-3, Book 3: Modern Painting and Sculpture book. This is a spiral bound book with 36 lessons. We did one lesson a week since some lessons have multiple projects or multi step projects to complete. A materials list is clearly laid out in the front of the book so that you can gather the needed supplies before you begin. Many of the supplies we had on hand, but if you don't they can usually be found at a craft store or Walmart. I found that we could substitute some items without compromising the project or technique. There is also a very good teacher/parent section about why it is important for children to learn about art history and a brief history of modern art.
Each lesson begins with an artist spotlight or time period spotlight that explains a technique that was used. It includes pictures of the artists and pictures of their work. Many lessons have additional resource ideas clearly highlighted in red boxes ant the end of the lessons. We also found it helpful to Google more images from the artist of the lesson.
Lesson one begins with the transition from art telling about stories, special people, and events to showing real life as it was happening…ordinary people doing everyday things. Then the project was to sketch and paint a family member.
I like how each lesson also features a student sample piece so that the kids don't get discouraged if their artwork doesn't look like that of the spotlight artist. Each child has different talents and it may not be art. But it is important to introduce and encourage them to try new things. The object isn't perfection it to have fun and open up a creative side!
Impressionist art often used household items in their paintings. The children are encouraged to fins everyday items and look at them in new ways. Another lesson had them choose dishes or food items from the fridge and create colorful paintings of them.
I liked how some lessons encouraged them to see nature in a new way and get outside!
New techniques and skills are tucked within the projects like hard edges vs. soft edges, selecting the correct brushes for lines, brush stroke motions, smudging oil pastels, shading, creating stamps, open space, color mixing, and much much more!
The sculpting projects are fun and used different textures and mediums to create fun objects. It taught the kids that some art is meant to be seen from different angles and directions.
Overall, I love this book! The kids love the book which is the most important!!!!! Even my non-artist is excited to dig into the projects. I am very impressed with the quality of the study and the project instructions/teachings. We will defiantly be returning customers to ARTistic Pursuits!!!!!!
Don't forget to check out Early Elementary K-3, Book 3: Modern Painting and Sculpture!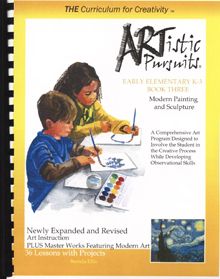 Find reviews for this and other ARTistic Pursuits products at…
The School House Review Crew
!