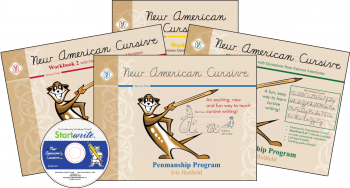 I am super pleased to be apart of another TOS Review! This time I was selected to receive
New American Cursive: Penmanship Program Workbook 1
from
Memoria Press
.

Let me first start by Introducing
Memoria Press
. Memoria press is a family run printing company that provides classical Christian curriculum to families just like you and me. It as founded by Cheryl Lowe in 1994. Cheryl was also one of the "Most Admired Women" in 204 Today's Women magazine. Memoria Press is currently working on providing a K-12 classical curriculum. They currently offer preschool – 8th grade curriculum and beginning Latin. They focus on using quality and classic literature to teach core subjects.
Find Memoria press on Facebook, Twitter, Pinterest, Google +, and Instagram.
I was chosen to receive the New American Cursive Book 1 which the girls were thrilled about since they had been begging to learn to "write fancy" as they call it.
This is a physical workbook which was nice since many curriculums are going to digital download which can be expensive to print. It is nicely spiral bound which allows for left or right handed practice. The down side is that you then would need one book per child. To stretch this book I used the workbook as a guide and then had them complete the assignments on a separate sheet of paper.
The program is easy to follow for child and parent. I simplified the letters by teaching a number pattern to the writing of each letter. There are also clearly marked arrows to follow the writing direction of each letters strokes. It incorporated multi-sensory methods to help concrete the motor skills necessary for writing. The book begins by reviewing correct writing posture and paper placement for both right handed and left handed students. That was a big bonus since I have one of both. It is hard to teach a lefty when you are not a lefty!
The teaching guide is helpful to remind students of the "Three S's" 1. Size (capital/lowercase and where each should live on the line), Slant, and Spacing. It includes writing samples to help compare your child's progress with others in the course level.
New American Cursive makes writing cursive fun as the student follows Mr. Meerkat through each lesson. Mr. Meerkat reminds students of correct pencil grip, and helps them find the starting point of each lesson. Each lesson includes an instruction page, a practice page and a fun writing activity. They begin by identifying the letter (say the letter). Then feeling the letter through tracing. Finally, they write the letter on their own. After every few letters a review of the letters learned is included.
What I thought of the program…
I really liked the book and the girls were excited to work on it. It was easy and didn't take any prep time which is super nice since we all know how little time we have and how valuable it is. The students could work through the lessons quickly and didn't have any struggle understanding what to do. Even more, they enjoyed it! I also saw improvement in their printing due to the cursive practice. The book had lots of space to trace and practice. I would recommend it for children who already have a grasp on print lettering and can identify every letter in print. I would estimate that it would work perfectly for late 1st grade – 3rd grade depending on interest.
Find out what other reviews though and find more Memoria Product reviews at …