Our family is always looking for some family time games or activities. We love spending time together and have been trying to make an effort to unplug from the screen. Thanks to
USAoploy 
 and their
Tapple
and
Wonky
games it has been a little easier!
Who is USAopoly?
They are the leading developer and manufacturer of board games and puzzles. They have been working to create fun new games with Hasbro since 1994. Their goal is to bring fun products to people and let them enjoy time together by uniting in friendly competition over game boards.
They produce many of the Monopoly spin offs, Disney games, Yatzee spin offs, Risks, Jenga, and more. Plus many many puzzles too.
You can find USAoploy on Twitter, Instagram, Facebook, and Pinterest.
What I got to review…
Tapple is a game where you race against the buzzer and each other. It is recommended for ages 8+ and can be played by 2+ players.
You play by picking  category card and press the center timer. You have 10 seconds to you say a word that fits in that category and tap the first letter of that word. No letter can be repeated. If the timer runs out before the player can think of a word they are out for that round.  The first player to collect three category cards wins. No spelling is required so even kiddos who struggle with spelling can have fun playing along. WE LOVED TAPPLE!
Some of the categories include…Fast food, Awards, TV shows, Arts and Crafts, Actors, Things at a party, Toys, At a circus, and many more.
Tapple is a great game for families with children that are all ages. It can be played with people who are young and older all at the same time. It is great for parties and larger groups since there are no game boards or tokens. Tapple is easy to transport and stores nicely. The cards fit into the bottom of the Tapple wheel and won't get lost easily.
We have really enjoyed playing and the girls ask to play several times a week. It is a game that they can play by themselves and that we enjoy playing with them. It would make a great Christmas or birthday gift for almost anyone!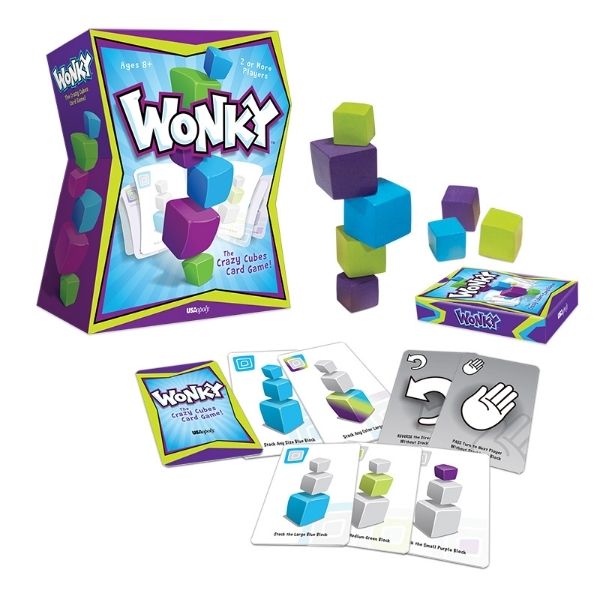 Wonky
It is a fun card game of building towers with funny shaped blocks. This game takes strategy to a new level. It is designed for players age 8+ and can be played by 2+ people.
Each player is dealt cards with pictures of the size/color of block that they can play. They have to play the same color of size of block that was played by the player in front of them unless they have a wild card. They then have to place that block on top of the last block on the tower. If the player has no card that can be played they must draw until they get a card that is able to be played. The tower must stay put for 3 seconds. Then play moves to the next player. If the tower falls the player must draw more cards. The hard part i the blocks are odd shaped and uneven.
The player to first get rid of all their cards or make a tower using all the blocks wins.
Wonky was fun to play and the girls loved it. They would erupt in laughter every time the tower fell. It is good quality and the blocks are wooden. It helps strengthen sine motor skills and concentration. As well as strategy to trip up the next player but still be safe enough for you to complete the tower in case they hold a reverse card. They liked to watch the other players squirm as they had to place the next block onto the tower holding their breath to try and not knock it over.
Both games are tons of fun and make great family games. I look forward to playing them many times!
Find out what other crew members thought…