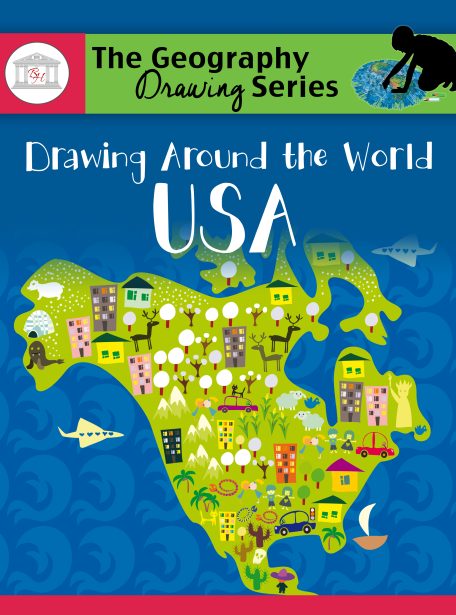 I am pretty bad a geography. I'm not sure that I can even name all 50 states! Until now we haven't even incorporated it into our homeschool. We have the token huge maps of the USA and world up on the walls and we occasionally point out a state or country when we are talking about them. But that's it! But, we now have a starting point thanks to
Brookdale House
and their
Drawing Around the World: USA
curriculum.
Brookdale House  provides lots of hands on curriculum's. Each series is unique in that it teaches children through writing and drawing about the subject. They learn history and geography without even knowing it!
They have several curriculum series. Geography Drawing Series, Writing Through History, Handwriting Practice from the Bible, Bible Memorization, grammar and more!
You can find Brookdale House on Facebook, Twitter, Pinterest, and Google +
In the, Drawing Around the World: USA  your child has the opportunity to learn the states in a fun engaging way. Short daily lessons don't add a lot of extra fluff to your already busy day. They are short, simple and sweet.
They already do the hard planning part for you with a four day schedule. All the worksheets are ready to go. The kiddos spend the first day becoming familiar with the state and finding out fun facts. Then they label the new location on their own map. They review what they already know by drawing the states studied thus far. Then they are ready for day two and three when they locate and label each new location on their map and add in the capitol. then again review what they already know. On day four, they demonstrate what they know by hand drawing the states they have studied thus far.
A variety of maps are included in this curriculum. There are individual state maps, black and white dashed maps for the child to trace around each state, frame map for labeling with capitols. Then the map that your child will create as they learn new states.
I really like that in addition to learning the states, locations, and capitols; that they are also challenged to find fun facts about each state. The curriculum doesn't use a lot of books but provides helpful websites to use for resources. My girls had fun finding out fun things about each state. They also liked that they were encouraged to make funny pictures out of each state to help them remember them.
Other than the extra resources which were free, there wasn't many other items needed. Just their book and colored pencils. The less the supply requirements the easier it is on the budget!
The Drawing Around the World USA comes in two formats, a print book and an ebook. The only thing I would change is that I would definitely spring for the print book. The ebook was nice for me to look through but required a lot of printing since they needed all the student pages. Many of the student pages could be reused during the study of each state by slipping them into a clear page protector and using a dry erase marker. But it still would have been nicer to have them in the printed book format.
Overall, this was a fun study and a great way for me to sneak in  some geography without adding a lot of workload to the girls or myself. No extra prep was required of me except the printing. All the needed supplies were things we already had. The student pages were easy for the kids to follow and the schedule wasn't to demanding to add into our days.
You can find sample pages of Brookdale House's curriculum including Drawing Around the World:USA  here.
Find out what other TOS Reviewers thought of this and other Brookdale House products…