We love movies at this house! But it is so hard to watch them on live TV. First problem, we live just outside the cheap TV and internet range in our town. Not many options are available to us except satellite.  Second problem, it is hard to find family friendly and safe things to watch on network and satellite channels. Even if the movie is "safe", the commercials are NOT!!!! As parents, we are protective of what our children are exposed too. Even if it isn't necessarily bad shows, character attitudes an rebellious vocal tones rub off. Also most hold no real moral value at all. You can never completely know what the hidden agenda may be.  I am so  glad to be  chosen again to do a review of  FishFlix.com. This time we received the movie "Faith Of Our Fathers".
Who is FishFlix.com?
FishFlix.com is an online Christian movie store that helps us bring good quality and safe movies into our homes. Their goal is to bring you  "The Greatest Christian and Family-Friendly Films in the World at Great Prices".
They offer a large variety of titles in many different genres. Some of the popular titles include: When Calls The Heart, Son of God, Escape, Love Comes Softly, Unbroken, The Lorax, Veggie Tales, and more. They also have Comedy, Bible Teaching, Children's, Biography, Documentary, and Holiday sections to browse through. Special interest areas such as Spanish and Catholic films are also available. Many of the titles can also be purchased in Blu-Ray format.
Each title listed in their company has been reviewed by a team of reviewers to save you time in deciding what is worth watching and what you may want to skip. This is helpful since their are so many movies available in our culture today. Their reviews can help determine what films are suitable for your family. You can find most of these reviews on their blog page.
Find FishFlix.com on Facebook, Twitter, Pinterest, Google +, and YouTube.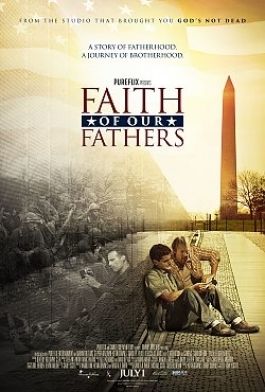 "
Faith Of Our Fathers
" is about two me who go on a quest to find out who their father's were and what they stood for 25 years after their young fathers had died. The two fathers were on the battlefield of the Vietnam war. One father was a man of faith while the other full of doubt. One had an infant son and the other a pregnant wife at home. Sons they would never meet.
The two son then begin to discover who their fathers were as they travel to The Wall, the Vietnam Veterans Memorial in Washington, D.C. While during their journey reading a series of letters that their fathers had sent home those many years ago. They discover the love that the fathers they never knew had for them.
I really like this movie! The story had a good premise and message. the two dads bonding over their love for sons they would never meet while the two sons searching to know who their fathers were and what they stood for. One family were Christians while the other were struggling for answers. The redemption message that was shared. The great tribute to a father who loved and served Christ and the legacy that it passed to his son even though they had never meet. I liked how the movie flashed from the current sons back to the fathers at war. The movie was filled with emotions…Some funny, some sad and heart wrenching, suspense and joy. It is a great movie all for the price of $9.99!
Find out what others thought!