My girls love audio books. They listen to them during quiet time when the little ones are napping. They also enjoy them on long car rides and since we have to travel a lot for Dr. appointments it is nice to have something to keep them occupied. We even pop them in during the day to keep our screen time down. I am privileged to review
The Brinkman Adventures: Season 3
from
Brinkman Adventures
.
Brinkman Adventures is a radio drama series that excites listeners while telling them true stories of modern day Christian heroes. The Brinkman family is a fictional large family that goes on fun adventures. They travel to Papua New Guinea,the Bering Sea, Alaska, the Sudan, and much more. However, during their adventures they tell real life stories of Missionaries and how God has protected and worked through these modern day Christian heroes. They also help children understand family situations like loss of a job and sticking together even when times can be hard.
I received the third season of the Brinkman Adventures. This season included four discs with three episodes per disk. That's 12 episodes!!!!! or 5 Hrs of exiting Christian entertainment. There are two formats to purchase Season 3, Cd's cost $27.99 and MP3 download is $17.99. We prefer the Cd version so we can pop it into the car or home stereo since we aren't very techy.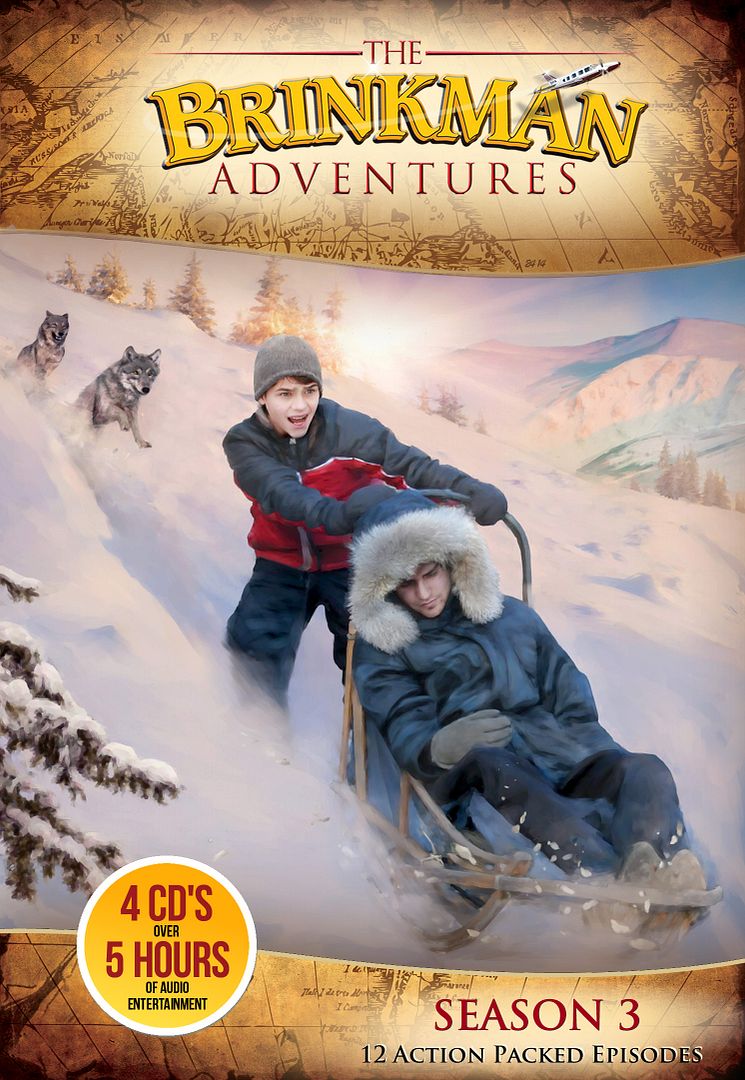 They would make great Christmas or Birthday gifts! Or just because gifts!!!! If your going on a family car trip for the holidays or just a vacation, they will make the car time fly by and help the kids stay entertained. (less fighting among themselves!!!!!!!!!!!)
My girls loved the stories and I didn't mind listening to them either. Each story taught good Christian values like evangelism, God provides, and getting along with each other. They also helped them learn and understand what Christians in other countries face. One story talked about the dangers of smuggling Bibles into other countries. Another talked about Operation Christmas Child and delivering shoe boxes which my kids enjoy packing each Christmas season. It brings the stories to life and helps them understand what missionaries have to go through to share the love of God with others. The stories are interesting and hold their attention. They are broken up nicely into short segments so if you don't have a ton of time you can listen to just one.
We had never heard of or listened to any of the Brinkman Adventure series. I was afraid that jumping into Season three might be confusing or the girls might be lost and not understand the stories. But, They did a good job tying us in and catching us up in the first episode. Each Season can stand alone without hearing the others.
EVEN BETTER….
Brinkman Adventures has offered my readers a FREEBIE!!!!!!!!
During the month of November, you can have access to free quarterly newsletters and THE 1ST THREE EPISODES of SEASON 2! Just go to https://www.brinkmanadventures.com/schoolhouse-review-crew-offer to claim your freebie!
Also follow Brinkman Adventures on Facebook!
Find out what other crew members thought at