My middle daughter and I love brain games! You know….hidden pictures, riddles, mind puzzles, etc. So when I saw
The Critical Thinking Co.
review post, I was on it!!!!! We got the awesome opportunity to review
The Basics of Critical Thinking
.
What is The Critical Thinking Co.?
If your like me you have never heard of it before. But it is a company that offers some really fun and cool products. The products are all geared to help kids gain tools to succeed not just in school or on tests, but in challenges of life. By using their products, kids can learn to identify and evaluate the problem and then analyze it to come up with a solution. The bonus is that because of how the products teach, better test scores, grades, and problem solving are bonuses.
Some of the products offered include: Test Prep, Phonics, Science, History Detectives, Practical Critical Thinking, Critical Thinking Basics, and much more!
You can find The Critical Thinking Co. on Facebook, Google +, Twitter, and Pinterest.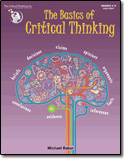 I was thrilled to be chosen to review
The Basics of Critical Thinking
. This book is designed for grades 4-9. But I'm not going to lie, I really enjoyed it too! The book is designed to introduce you to what critical thinking means and how to use it to identify, evaluate, and solve a problem. It does it in fun ways too. To be honest, my kids didn't even realize they were doing "school work". They would ask to sit down and do the fun book!
The book is divided up into 20 sections. The sections focus on conclusions/decisions, facts/opinions, finding evidence, beliefs/claims, Venn diagrams, agreements/contracts, arguments, etc… Each section teaching a skill in critical thinking as well as applying what was learned in previous sections. Each lesson is full of color photos, fun stories, and easy to understand problems.
I really like that there is a pre-test and a post-test so that you can see where your child needs extra focus and what they have mastered.
None of the activities seem like work! They are all designed to be fun and engaging activities or puzzles. Stories where the kids can identify the problem and reason to a solution.
It is a paper back book that is printed in color. I has 152 pages and is licensed to be reproducible so not every child will have to have their own copy. You can take a look inside the book here.
We had one copy and I used it with both older girls. We actually just sat down together and read the lesson. Then we brainstormed ideas on scratch paper before working out a solution together. It was fun to see what each child would pick up on in the story, or what conclusions they would each come up with. It let me once again see their uniqueness, strengths, and weaknesses. It showed them that when we all work together, our God given talent mesh and each one can contribute in different ways to come up with solutions to real life problems. Isn't it neat that God designed us all to be different but yet come together as a perfect puzzle!
There were many other Critical Thinking Co. products reviewed by the TOS Crew. Find out what they are and what others thought about them by clicking the image below.