Thanks again to the TOS Review Crew Team I got to review a great product. This one was for my little bitty, well no so little bitty anymore. She is in Kindergarten can you believe it?
Logic of English
 has put out a great beginner learner series called Foundations and we got
Foundations A
!
Logic of English
 is a great all around learning program. It doesn't just focus on one subject but is designed to "teach the whole child". Their program covers language arts with spelling, reading, grammar, and writing. It aims to end sight words and memorization of words and teach why words sound like they do through phonics awareness. They use a very visual based learning system that encourages hands on learning. Whether your child is starting out in the English language or is a struggling learner, Logic of English is a good resource for you.
Find on-line resources and videos that explain the programs here.
Check out Logic of English on Facebook, YouTube, and Pinterest.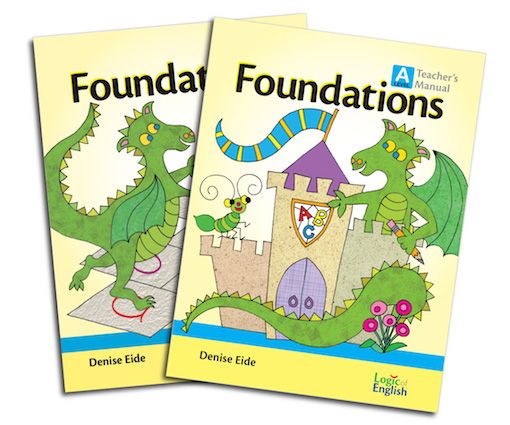 I received the
Foundations A
for beginning readers to use with little bit. This set is designed to introduce your learner to phonemic awareness such as letter sounds, beginning sounds, decoding short vowels, and consonant blends. It also teaches "the rhythm of handwriting" and writing a-z.
There are several components included in the Logic of English – Foundations program. Many are reusable resources that will follow the program through. however, the workbooks are a consumable resource.
Foundations A books include a teachers manual, student workbook, and Doodling Dragons story book.
The manual is easy to read and follow. The instructions are clear and there is little prep time involved which is a plus for me.
The student workbook is colorful and high quality. My learner was excited to work through the pages.
The Doodling Dragons book is a great book that teaches the alphabet, the letter sounds, and the letter shapes. It is brightly colored and fun to read.
Next come the reusable resources. They included some neat cheat sheets for letter sounds, spelling rules, handwriting rhythm, and letter writing. I enjoyed these resources and used them often even with my older kiddos. It was a great review for them on the spelling rules.
The "Rhythm of Handwriting Tactile Cards" were great to teach the letter shapes and practice basic handwriting. She like tracing the letters and then writing them on the included white erase board. These resources are available in manuscript or cursive.
Also included in the kit are Phonograph Flash Cards to teach letter sounds and blends. There are two fun game sets to help master it too!
One of my favorite things are the letter tiles that are color coded to vowels and consonants. This helped with the read, write, say concept. She was able to spell basic words and understand the word patterns using the color coded vowel and consonant tiles.
Also available to iTunes users is a Logic of English Apps. I did not use since we are an Android family. But I would consider a HUGE plus!!! My visual learner has picked up more from tablet games than me trying to tell her how to do things. haha There is an app for the Doodling Dragon and a Phonograms app.
I consider this curriculum very high quality and we enjoyed using it and will continue through this level and possibly the next few!
Find what other crew members thought of Logic of English and the products available…