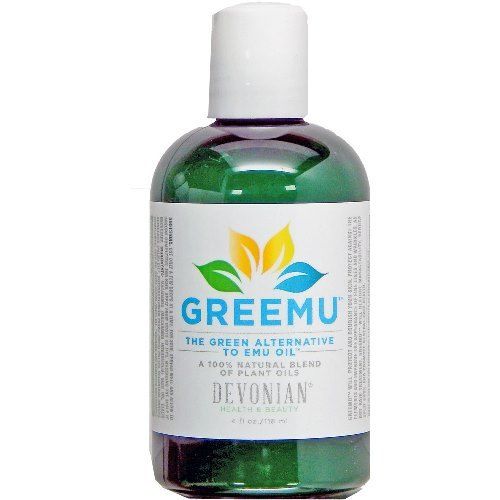 For the past several weeks I have been using a great vegan alternative to emu oil called
GREEMU
from
Devonian
. It is distributed by Koru Naturals with is a company I love. See my KORU reviews 
here
 and
here
. Yep that's right this is #3 or using their great products!!!!!
I use emu oil for a number of things. It is a great moisturizer, hair frizz tamer, and essential oil cutter. However, it tends to have a distinct smell and slightly sticky texture.
Now, Devonian has come up with a plant based blend that matches the lipid composition of a Grade A Emu Oil. It is called GREEMU oil. I have found that it has NO SCENT at all which is a bit more pleasant when using with essential oils or as a hair product. It also has a smoother texture and doesn't get sticky.
Regular emu oil is extracted from the fat tissue of the emu. Many people shy away from that product due to it containing animal products. However, GREEMU is made from plant oils and butters (macadamia seed oil, palm oil, shea butter, sunflower seed oil, and rice bran oil) but has the same great uses and benefits.
GREEMU is also designed to absorb slower than emu oil so you can use less getting more bang for your buck.
Here are some ways I use it…
It is way more than just a "hand lotion". You can also use it as a leave in conditioner, as treatment for dry/damaged hair, scalp treatment, as well as skin and nail treatment.
I struggle with scalp psoriasis and It greatly reduced the redness and itching. I also used it on my hands before bed and they could be less cracked in the morning. You can also use it to help heal scratches, scrapes, and reduce scarring.
Find Koru Naturals/Devonian and GREEMU oil on Facebook and Pinterest.
You can get GREEMU oil from Koru Naturals or Amazon and UNTIL MAY 31st you can get 20% your order with coupon code GN395Z10.
Find out what other crew members thought by clicking banner below.