As part of the TOS Review Crew, I received a
Lifetime Membership
to
Homeschool Copywork
. This has been a great resource to have. It has made unit studies easy and fun!
Homeschool Copywork  is full of notebooking pages in a wide range of subject matter. The ages range from young learners to older students. I was able to find and use coloring alphabet pages to use with my preschooler/kindergarten age daughter. They also have shapes books, beginning readers, and transportation copywork.
For my older girls we were able to use some of their themed notebooking resources to study people, places, and things that they would like to learn more about.
The website is very well organized and easy to search through. Their are tabs at the top of the page to search resources by age. There are three age categories to use. The Jr.High/High school, Upper Elementary, and Early Elementary are the searchable categories. There is also bonus resources available to members.
Copywork is a great way to include writing and note taking skills into everyday subjects. It is like writing worksheets on steroids haha. It is also a good way to introduce new subjects or information to peek interest in something new. It also makes a lasting keepsake in your child's education records. You know what a kid learns by what they are able to remember and rely in their own words. Even better is that with notebooking pages it is written out.
I am very proud to say that Homeschool Copywork is a Christian company and provides many Biblical and Scripture resources. The Armor Of God unit study was a great one!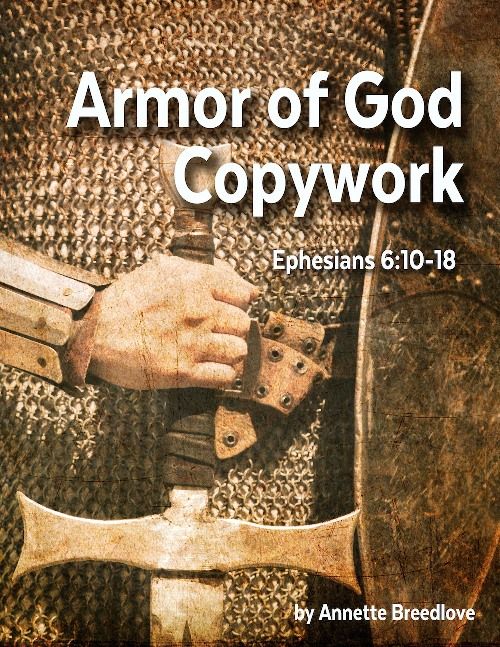 It was wonderfully illustrated  with medieval graphics and has the memory verses to copy and blank pages to use  for their notes from scripture.
Little learner used the Saint Patricks day emergent reader in the bonus section to begin to read and recognize symbols of the season. She really enjoyed it also.
There is a wide variety of subject matter available . Many composers like Mozart and Bach. Also Artist like Van Gogh and Leonardo Da Vinci. Subject matter categories are: Bible passages, Artists, Poetry Composer Quotes, Hymn Studies, Famous documents, Inventors, Science, Preschool ,Holiday, Special Occasion, Notebooking Pages, and Coloring Books.
Upper Elementary holds copywork pages for human body studies, the wright brothers, and more.
I found poems and literature units also!
I also like that many of the studies come in cursive and print forms to help with different levels and preferences.
When the girls are curious about a person or book I go to Homeschool Copywork to see if they have anything to use for a study.
Now for Membership Info. I received the Lifetime Membership retail value of $45. There is also a yearly membership offered for$29.95. You can see the better value huh? That gives you instant access to all the goodies!
There is a free trial membership but it will only give you access to the free products.
You can find Homeschool Copywork on Facebook, Twiiter, Pinterest, Google +, and Instagram.
Find out what other crew members thought of Homeschool Copywork and their Lifetime Membership by clicking the link below!