It's review time again! Our regular school year is almost over which means it is time to narrow down our summer lesson plans. We usually focus on math, English, literature, and writing during the normal school year. Then in the summer months we do history, social studies, and science since those curriculum's seem to be a bit more flexible in scheduling. This year we will be using
Introductory Science
Level B by
Science Shepherd
.
Science Shepherd is a curriculum designed by a homeschool dad for homeschoolers. I like that! Many of the other curriculum out there are designed for the classroom setting and have activities that may be hard to incorporate into a small group of students. In turn you pay for more than you can use.
The goal behind the Science Shepherd programs was to give the parents confidence to teach their children science regardless of their own background knowledge in the subject matter. In turn allowing upper level students to remain in the home and still receive top notch education!
The material uses updated technologies, such as, videos, pictures, and graphics. The books and videos allow students to work through the material independently or as directed by the parent. It is easy to understand and fun to use!
Most importantly, it is all written form a Biblical Perspective! Which makes it safe to use for your eager learners.
Courses available include…
Biology
Life Science
Introductory Science – with workbook choices level A (ages 6-8) & Level B (ages 9-11)
Creation Science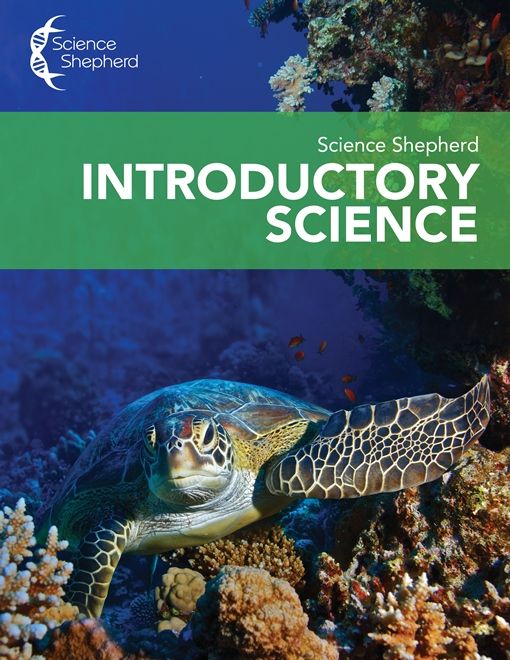 I chose
Introductory Science
with workbook
Level B
. One thing I really like is that they offer both levels of workbooks. That makes it so easy to teach one lesson but to customize the work material for multiple age levels. I can teach my kindergartner and my two fourth graders at the same time.
Introductory Science is a complete science course for ages 6-11. Topics covered include: creation, geology, biology, oceanography, meteorology, and much more. The course is designed to take 35 wks to complete but can be easily adjusted to fit a different schedule.
Each week is then divided into daily work. The daily work includes a 2-5 minute video that covers the material for that day. Then they have workbook pages and/or hands on activities to accompany that days lesson.Videos are available on-line for a 12 month period. However, if you run out of time you can purchase an extension to the time for $5-$15. That is nice to know since most often our time frames and schedules get pushed around quiet a bit here.
The workbook Level B includes a wide variety of activities. I will talk briefly about the activities for week 8 since you can view a sample video f that week here. Week 8 is Earth Science : Geology.
Day 1:Volcanoes –  After watching the introductory video, the student then reads the bible verse for the week (Psalm 104:5). Then, answers 4 questions about the video followed by a "erupting volcano" experiment also available in the video section.
Day 2: Ice Age – Another interesting video followed by questions.
Day 3: Glaciers – Video, questions, matching activity, and a vocabulary word find puzzle.
Day 4: Earthquakes – Video & questions
Day 5: Erosion – Video, questions, and another video activity/experiment about what erosion looks like. Then a review of the entire week.
I really like how easy yet informative this program is. It is full of fun activities and questions to help the kiddos remember what they have learned through the videos. I also like how it takes the preparation and lesson planning off of me so that I can enjoy learning with the kiddos instead of stressing about missing something important. It is a great way to keep learning through the summer months but not fell pressured to  keep up with a tight schedule. Each days lessons are short and sweet so if we miss one it isn't a big deal to just double up for a day of two.
I look forward to using this during the upcoming break!
Make sure to check out Science Shepherd on Facebook, Twitter, and Pinterest.
Find out what others thought of Science Shepherd and their products…