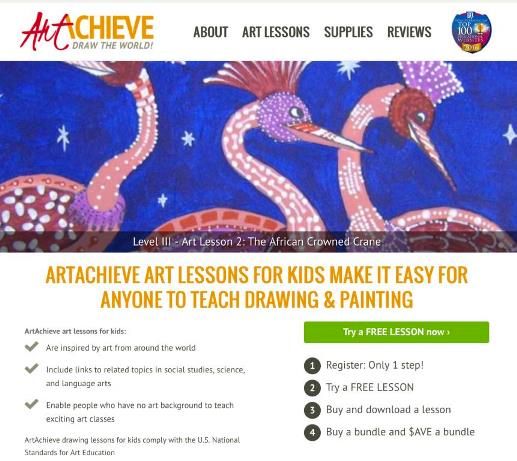 We have added some artistic fun to our summer with ArtAchieve and The Draw the World Entire Level 1 course. We love it!!!It has also helped bring some structure and learning to our summer off. It is super flexible and has fit right in to our crazy schedule.

ArtAchieve believes that everyone can be an artist with a little time and a little learning. Their program teaches basic and essential skills through online lessons and tutoring. It is more than just art, it also give a brief geography and biology lesson with each creature creation.
They offer several levels of lessons so there is something for every student…Beginner to advanced. Make sure to check out the products available in each level to see what peaks your artist's interest. It was really hard for use to decide since there were so many fun projects.
You can purchase each project individually, as a bundle of a few products, as and Entire Level bundle, or the entire curriculum access.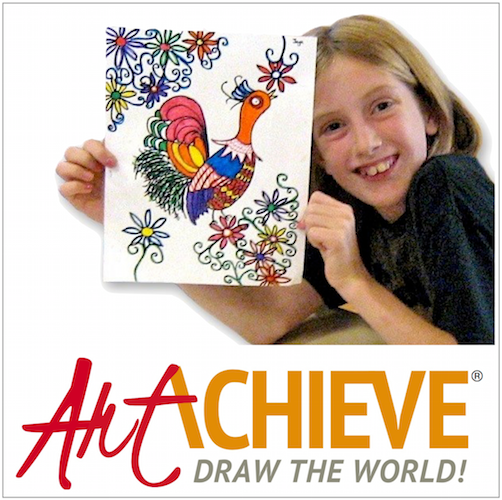 We ended up choosing the
Entire Level 1
bundle a $27 value. Included in this bundle are eleven projects. Our 1st two picks were Level 1-Art Lesson 4 & 5. The Dragonfly from Ecuador and The Haitian Gecko. ArtAchieve also has several
free tutorials
you should check out!
The curriculum lessons include four sections. The first section is a PowerPoint lesson that includes a brief example of ways that you can customize your project, a section about the animal in the project, where the project comes from ie..Haiti, goals and instructions for the lesson, supplies, warm-ups, lots of helpful hints, and step-by-step drawing instructions.
Next is the warm-up download that includes printable copies of the warm-up exercises described in the PowerPoint lesson.
There is also a video that talks about and demonstrates the project. we had fun with the music from the area studied haha!
Last is the printout of the project. This was super helpful to get even the little involved in the art. She loved coloring the page and one of the other girls used it as a template to trace using graphite paper.
We used the curriculum within our home with our students but it would also work great in a COOP or school setting. It would make a fun drawing party or a girls night out activity. It was fun seeing the different takes on the same project. Everyone had their own interpretation.
We have really enjoyed going through the lessons and look forward to finishing the rest of the projects. It is nice that this curriculum doesn't require any outside prep. As long as you have art supplies on hand it is really plug and play. haha
With our super busy summer schedule it is sometimes hard to have free time activities if I have to prepare anything for them. We have had fun just sitting down together and learning while creating!
You can find ArtAchieve on Facebook, Twitter, Pinterest, Google +, and Instagram.
Don't forget to check out what other Crew Members though and some more sneak peek's of the levels and projects by clicking the banner below!