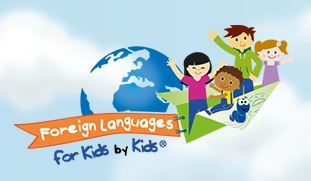 I know it is still summer, but we've been busy on the TOS Crew reviewing some great products! My girls had really been begging to learn Spanish. I had several years of it in High School but that was a LONG time ago. We had been looking for a program to start on when Foreign Language for Kids by Kids came up in the vendors. We grabbed up the Starter Set 1 and have had a blast using it!
Foreign Language for Kids by Kids is a super fun program to use and was voted "Top 100 educational website of 2016" by Homeschool.com. They offer Spanish and Chinese classes, Online Spanish program, Videos, Games, Workbooks, and more. They offer Starter Sets and Online Access for your convenience and learning style.
You can start a free trial of the Spanish Program here. Their members ships range from one month subscription – two year program access.
The lessons are set as full immersion lessons. All the video is in Spanish but includes fun graphics, creative pictures to explain the words, and mini skits that entertain and keep the attention of the viewer. This approach helps add new words to your vocabulary and review words already learned. You can learn foreign language quickly as you apply it to daily life.
Find Foreign Language for Kids by Kids on Facebook! They share fun "word of the day's"!
Also Checkout 5 tips for learning a foreign language for some great info to get you started on your foreign language journey!
We received the Starter Set 1. We were excited as soon as we opened the box and dug into all the goodies!
Included in this set are…
~A 20 week curriculum guide (teacher guide) that is packed with lesson plans, game ideas, and activities that will help you schedule your lessons and gather your materials.
~A DVD containing three videos for you to watch and have a great time laughing with. Videos are Basketballs Aren't for Breakfast, The Little Magic House Part 1, & The Little Magic House Part 2.
~ 3 workbooks, one to use with each video. These are consumable and you will need one per student.
~ Sticker Set that are super fun!!!!! You and your student get to label items around your house and begin using Spanish in your everyday tasks.
~ Flashcard set that include pictures and Spanish words that are learned in each video. These are also used in games through out the curriculum guide.
Here is how we are using the curriculum…
This has been a great program that we have looked forward to using each day! We start by watching the video or segment of a video. This usually takes 5-15 min. depending on where we are in the video. Day one starts out as just watching a few minutes of the video and works u to watching the entire thing.
After that we discuss what we have seen and clarify any new words used or learned.
Then we complete the activity page in the workbook. After that we take a break and come back later to a game.
The flashcards the girls use independently to review words or play the games suggested in the curriculum guide. One is a version of "go fish" using the graphic cards and the Spanish word cards.
We have learned alot of new Spanish words and enjoy using them throughout our days! We can say that Foreign Language for Kids by Kids ~ Starter Kit 1 is Me Gusta!!!!!!
Find out what other TOS Review Crew members thought by clicking banner below!