We have studied Astronomy before when my kiddos were younger. We have also used Apologia science products before. But, the Exploring Creation with Astronomy, 2nd Edition from Apologia Educational Ministries  is the best of both those combinations. My girls are loving it!
Apologia Educational Ministries is the #1 producer of creation-based science and Bible curriculum and has won more than fifty top awards from homeschool parents and media.
There curriculum is a great way to teach science with a Biblical point of view. Each lesson includes Bible verses/Stories to support science and reaffirm what God has taught us abut the world around us. I really like that I don't have to worry about coming across any false truths that some science curriculum's sneak in. It is all family safe and Bible based.
Apologia offers several levels/subject matter in their science curriculum in their "Exploring Creation" series. Some of the available subjects are Physics and Chemistry, Human Anatomy and Physiology, Botany, Flying creatures of the 5th day, Swimming creatures of the 5th day, Zoology, Biology, Marine Biology, General Science, Physical Science, and of course Astronomy.
The program is set up with a textbook and student journals. I received the student text, a Notebooking Journal, the Jr. Notebooking Journal, and and Audio CD of the text.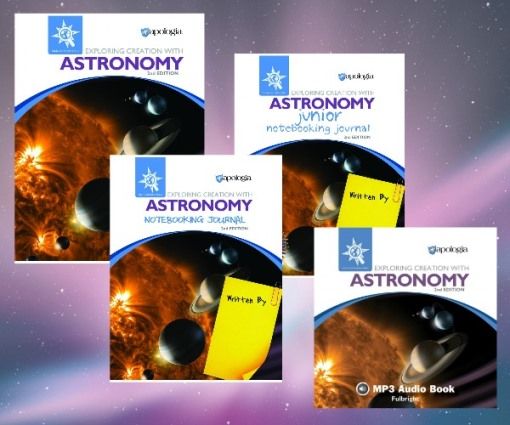 The textbook has all the reading material broken into lessons. The ideas is that the student is to read the text then teach it back to you. Since I have multiple students, we read the text together and then I have them take turns answering the discussion questions so that I know they understood what was read. I really like the Audio CD. We have never used it before Astronomy. It helped me free up my hands and listen while they looked at the text. It was a great help since my hands are pretty full these days.
At the end of each section of text are fun hands on experiment ideas and discussion question about that chapter. You can choose you pace and style of learning and their is no strenuous time line to follow. It is go with the flow!
The Student Journals are a lot of fun for both the student and the teacher. The two types of journals are the regular Notebooking Journal and the Jr. Notebooking Journal. The biggest difference is that the Jr. journal includes coloring pages and some of the info is pre-filled while the regular journal has more blanks to fill in.
The journals include places to write about the experiments, mini books, and other fun learning resources and activities. My kids really like their journals and it is helpful to me to have all their assignments and notes in one place when it come to record keeping.
The different levels of journals and the way the text is written make it easy to teach students at any level or multi level. We use it as an entire family and all learn something new. No one feels lost or left behind in the text. It really is a family resource on so many levels.
As for what the Astronomy curriculum covers it has 14 lessons. each lesson is designed to take around two weeks to complete. So you have an entire year of studies at your finger tips. Lesson one starts out with discovering what Astronomy is. The the next lessons move into studying the sun, major planets, the moon, space rocks, the kuiper belt and dwarf planets, and stars, galaxies, and space travel.
Like I mentioned earlier, this is not our first experience with Apologia, and I'm sure it won't be our last. I am definitely sold on this product.
You can find Apologia Educational Ministries on Facebook, Twitter, Pinterest, and Instagram.
Find out what other TOS Review Crew members thought of Exploring Creation with Astronomy, 2nd Edition…