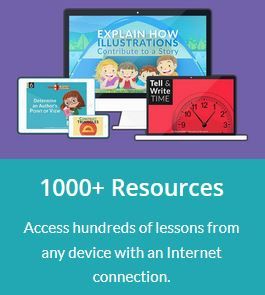 Lesson planning can turn into a full time job. Especially when you add in multiple grades/ages. Luckily, there is Educeri …….  Educeri a division of DataWORKS that has lessons for grade K-12 for a wide variety of subjects available with their Educeri Lesson Subscription Service. They offer over 1000 Ready to Teach Lessons!
Even if you have lessons/curriculum that you love using, there is always at least one area that your child will struggle with. Educeri Lesson Subscription Service can help by offering a new look and fresh ideas to help over come that hurdle in your child's education.
Educeri are committed to creating and providing excellent lessons that are available with just a click of a mouse. We received unlimited access to all the lessons. It is a huge time saver to be able to find lessons plans by topic, grade level and subject area. A simple search can help you narrow down the topic/s you are looking for.
We don't buy a certain curriculum for Kindergarten. I pick and choose activities that will help re-enforce concepts that we need to learn. The Educeri Lesson Subscription Service has made that super easy. You really could just get it all in one stop. Units like telling time, counting, making predictions, comparing texts, addition, writing, determining message of a story, and much much more are right at your finger tips. For the older students, there are multiplication & division reviews, fractions, place value practice, language arts, writing, sentence structure, and more. This is very useful for those of us that have students that are academically all over the place. I have one in 4th grade math but 5th grade everything else. By being able to pick and choose levels you aren't boxed into one set grade
You could use this as a stand alone curriculum, summer review, or just add in's to your day. We mainly used the Kindergarten material but, we plan on using the other throughout the school breaks as review. It is also helpful for me as the teacher to go through and see if there is any area that my students may be lacking in their current curriculum. Since we have no real road map or contact with the public school system, I have used it as a "what my kids should know when" guide. One of my fears of homeschooling is that I will miss teaching them something that they need to know and use. I found that the grade sort helped in this. If I saw a concept that we have not yet covered I just added it into the lesson plans.
Each lesson is taught in a slide show format (kind of like PowerPoint). Using motion and graphics to illustrate the concepts. My Kider Kid liked seeing the lessons and helping work through the problems before she tried them on her own. There are also downloadable student handouts with most lessons that you can print and use as worksheets.
With the Subscription Service, you have access to all grades and all subjects. This is designed mainly for traditional school teachers to use as pre-designed and arranged lesson plans. With that said, we've been enjoying using this in our homeschool! I love how the lessons really are "Ready to Teach"! There was no prep work aside from printing the handouts. I can just sit down and go through the lesson with my student/s.
You can begin a free 30 trial of Educeri by going to their website.
You can connect with Educeri via…
Facebook: https://www.facebook.com/educeri/
Twitter: https://twitter.com/teacheduceri   @educeri
Pinterest: https://www.pinterest.com/Educeri/
Find out What other Homeschool Review Crew Members thought…