When this review was posted on the TOS Crew, I have to admit, I had never heard of
GrapeVine Studies
. I must be living under a rock, right? But once I looked through their awesome stuff, I was thrilled to receive
Old Testament 1: Level 1 Creation to Jacob
.
Let's start by talking about GrapeVine Studies in case your like me and it's new to you.
Their studies begin at level "Beginner" for prek-k (5-7) and go through "Level 4" for 7th – 8th grade (12-14). They also have several topical studies to chose from also that are geared for ages 7 and up.
Here is some Information about Levels with the ages to help you get the idea.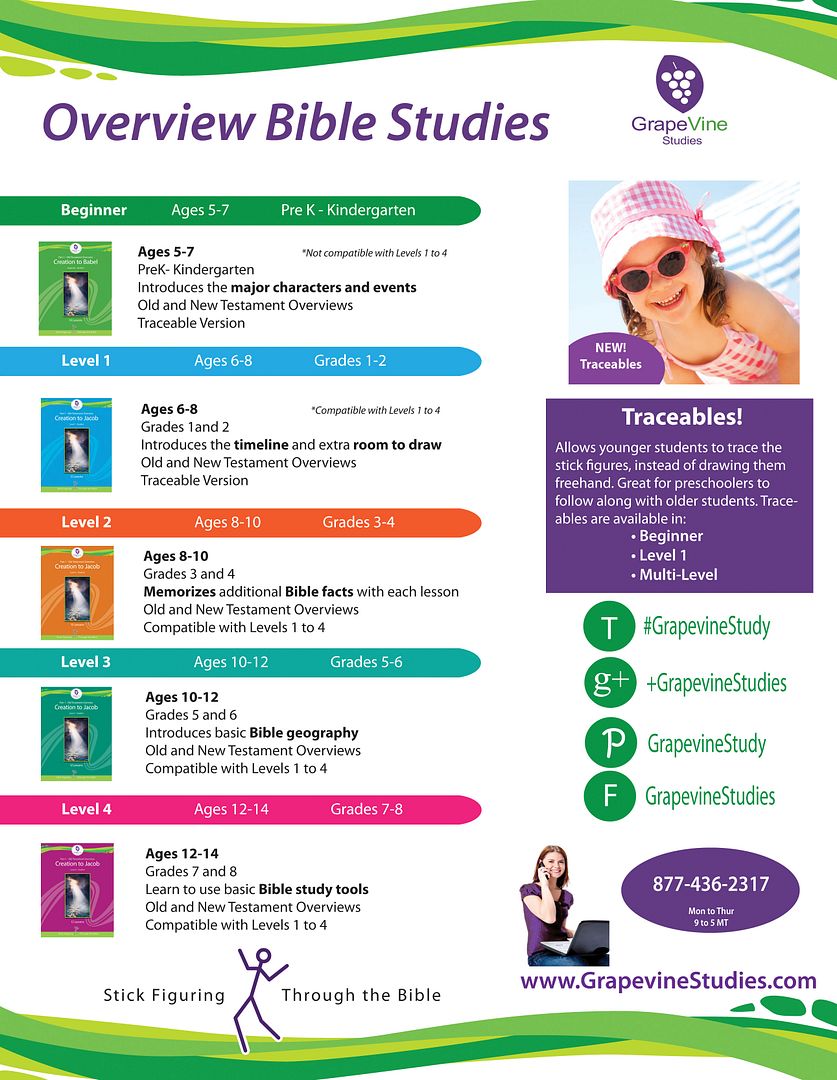 I was also confused about where to start. I chose the beginning so that my youngest could get caught up to our current Bible quizzing story. But they have help for you to decide what works for you in their How to Choose?  Where to Start? page.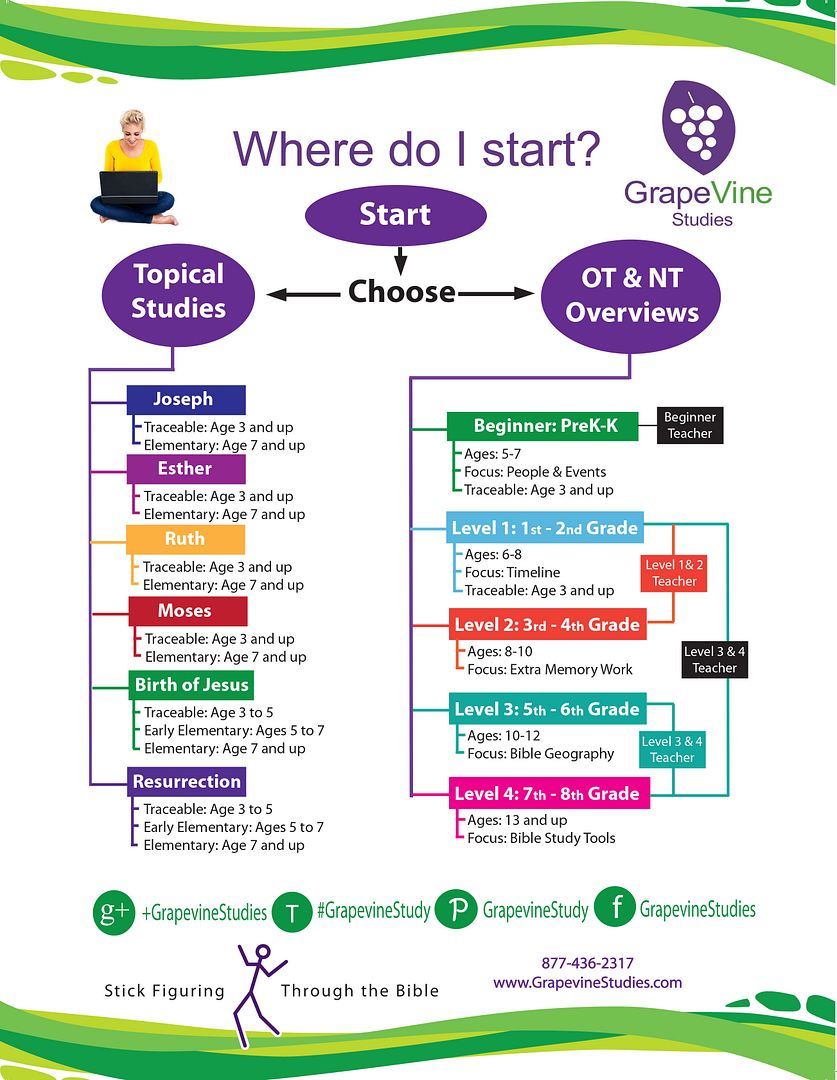 They also provide some
Sample Lessons
for you to browse and try before you buy.
They have three different book options in most of the levels. All levels you can purchase the "Student" and "Teacher" books. But some levels also offer a "Traceable" version. I received the teacher and a traceable. I really like the traceable since I was gearing the study toward my youngest and using it only for review for my older two. The traceable takes the frustration out of the drawing for the younger or special needs kiddos.
So now on to what I got…. Creation to Jacob – Teacher and Traceable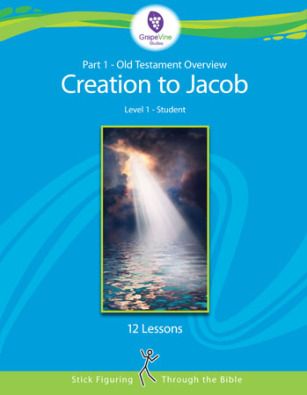 I really like how the teachers book is laid out. It is designed to be a study for 12 weeks, or a 45 day lesson study. The teachers book includes lesson notes, timelines, stick figure drawings, memory verses, and reviews. All the extra supplies needed I already had! But in case you don't the list is minimal and includes Bible, dry erase/chalk board, 8 different colors of markers/chalk, and a Bible Dictionary. The students only require Bible, Grapevine study book, and colored pencils.
The Grapevine teaching method is to learn the timeline of events then fill in the rest of the Bible passages, characters, and events. Basically, you let them see the big picture before filling n the smaller details. My kids liked this method because they could see where they were headed. After the timeline is covered for the week, students then study each lesson by reading Bible passages and then drawing stick figures or symbols to remember what is read.
I also really like how the study is set up to be "Teacher-Directed Doctrine". It allows me to teach what we believe to my children without the fear of running into something that is contrary to what we believe. It is set up to be nondenominational then you add in your specific denomination's catechism.
All in all, we really enjoyed this format of studying the Bible. I was able to see what they remembered or felt was important on the student review pages where they drew their own figures of what they remembered happening. It also allowed them to write their memory verse if you are choosing to memorize the assigned verse.
If you want more information about GrapeVine Studies you can find the on Facebook, Twitter, Pinterest, Google + and Periscope @Grapevine Studies.
You can also find out about what other TOS Crew Members thought of this and other GrapeVine Studies by clicking the image below.